Interscholastic Athletic Programs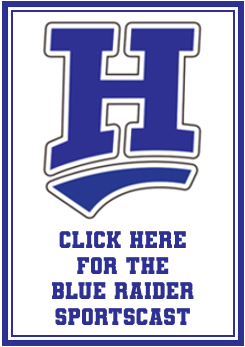 The district offers a full range of interscholastic sports. Programs for students in grades 7-12 normally require attendance at practice five or six days per week for 2 to 2.5 hours each practice. There is a selection process for teams that involve competition with other schools in our league and section.
Click here for sports schedules for the current season.
Click here for starting dates for sports seasons.
Click here for the Athletic Code of Conduct.
Fall Sports Information
Varsity/JV Fall Sports:
Registration opens 7/24/21
Start date 8/23/21
Modified Football, Boys/Girls Cross Country:
Registration opens 7/31/21
Start date 8/30/21
Modified Boys/Girls Soccer, Girls Swimming/Diving, Volleyball, and Golf:
Registration opens 8/14/21
Start date 9/13/21
on opens 3/20/21
Click here to sign up for a sport.
2021 Sports Tribute
Our 35th Horseheads Sports Tribute was held Wednesday, June 16 on our football field. We congratulate all student athletes, teams, coaches, and our newest Hall of Fame inductees.
Click here for the event program.
Click here for photos from the Sports Tribute.
Click here for the recording of the Sports Tribute.
Click here for a video of athletic highlights from the 2020-21 school year.
For links to live streams of Blue Raider sports competitions, click here.
Click here for sports schedules for the current season.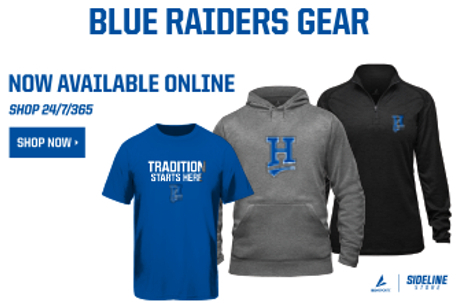 Sign-Ups
Students will receive information about team sign-ups in their physical education classes. Sign-ups begin 30 days prior to the start of the sports season.
Students entering Grade 7 who wish to participate in a fall sport will receive information in their sixth-grade elementary physical education class in May. New students who enter during the summer and wish to participate in sports should call the Athletic Office and schedule a summer physical with the school medical provider. This physical will meet the requirements for the entire school year.
Click here for more information and for the sign-up link.
Please note: If your child is transferring from another school and participated in interscholastic sports in his or her previous school, please complete this form and bring it to the school when registering your child.
Physicals
PLEASE NOTE: The 12-month time frame typically required for health examinations for sports participation in the fall season has been waived due to the global COVID-19 pandemic. For the 2020 Fall sports season, a student may participate if he/she has had a health examination in the 2018-19 or 2019-20 school year and the parent/guardian completes a health history form. Any health examination for the 2018-19 or 2019-20 school year is acceptable regardless of the date on the form. Students should plan to obtain the required health examination prior to participating in the winter or spring season. Please note that these requirements may change depending on the status of the COVID-19 pandemic.
We will hold school sports physicals in the summer each year. This enables all of our students interested in athletics to be prepared for each sport season for the full school year. A physical less than one year old at the beginning of the sport season is acceptable.
Student athletes who need a school sports physical should log on to the Family ID site here.
Students should report to the High School cafeteria using the auditorium doors. Please refer to the Family ID site at the link above for the last day to register for a physical.
To reach the High School Health Office, call 795-2512. During the summer, the High School Health Office is open every Wednesday 9am-noon for sports and working papers. To reach the Middle School Health Office, call 739-6357 x4.
Pre-Season Meetings
Each coach holds a preseason meeting before the start of the season. The coach will check medical eligibility forms provided by the Nurse's Office and allow only those students who are cleared by the nurse to begin practices. Coaches will provide practice schedules on the first day of practice. Coaches will also present expectations, goals, and objectives.
Fall Sports:
Varsity and Junior Varsity: Boys Cross Country, Football, Golf, Soccer, Girls Cheerleading, Cross Country, Soccer, Swimming, Tennis, Girls Volleyball
7th & 8th Grade: Cross Country (boys and girls), Football, Girls' Volleyball, Girls' Swimming, Boys' and Girls' Soccer, Co-Ed Golf
Winter Sports
Varsity and JV: Boys Basketball, Bowling, Indoor Track (Varsity), Swimming, Wrestling; Girls: Basketball, Cheerleading, Indoor Track, Bowling
7th & 8th Grade: Boys Basketball, Boys Swimming, Wrestling; Girls Basketball
Spring Sports:
Varsity and JV: Boys Baseball, Girls Golf (Varsity), Lacrosse, Tennis, Track; Girls Lacrosse, Softball, Track
Modified: Boys Baseball, Boys and Girls Lacrosse, Boys and Girls Outdoor Track, Girls Softball
Spring 2020:
Our Spring 2020 sports season was cancelled due to the global COVID-19 pandemic.
Our annual Sports Tribute was held remotely on June 2. Please go to the links below for more information:
For more information on our athletic program, please contact Charles DeTaeye, director of athletics and physical education, at (607) 739-5601, x4254, or cdetaeye@horseheadsdistrict.com.
For general questions about our district, email hcsdinfo@horseheadsdistrict.com.